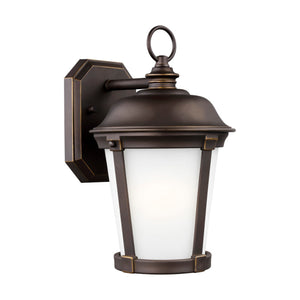 Calder Outdoor Wall Lantern - Medium
Designed for Beauty, Engineered for the Elements
With outdoor lighting fixtures made from StoneStrong composite, you get the best of both worlds: style coupled with the rugged, no-nonsense durability of this remarkable proprietary material. StoneStrong is made up of ground marble and emery for strength, latex composite for durability, bonded together with an adhesive used primarily in outdoor applications. StoneStrong composite is especially well-suited for harsh climates where prolonged exposure to salty air, rain, sun, snow and humidity—even debris and pollutants—is the rule, not the exception.
BENEFITS
- Rustproof
- Resists Corrosion, Fading, Fire, Acids and Alkali
- Twice the Strength of Resin
- Withstands Temperatures Ranging from -20º F up to 120º F
- Eco-Friendly—Complies with Restriction of Hazardous Substances (RoHS)
- Maintains Fine Design Details and Textures
 - Coastal Region Approved
5 Year Warranty
Specifications
Material:  EPMM (A composite material made of plastic and ground stone.)
Finish:  Antique Bronze
Glass:  Satin Etched
Width: 7.875"
Height: 12.25"
Extension: 9.125"
Backplate: DP:1" W:5.125" H:7.125" OB UP:4.375" Octagonal
Socket: 1 - Medium - A19
Bulb Shape: A19 (Not Included)
Wattage: 75W
Lumens Delivered: N/A
Rating: Wet Rated
LED Convertible
California Title 24 Compliant
---
We Also Recommend